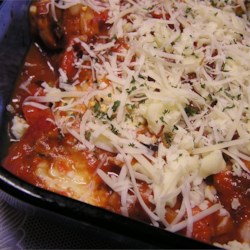 In my constant quest to find healthy foods that my 18 month old will eat, here is another potential option to feed your toddler in order to provide him with lots of healthy veggies in a stealthy sort of manner...
Check out this
Hearty Vegetable Lasagna
recipe. I made it the other day and was very happy with the results. I even managed to find a whole wheat lasagna that I could use in it, for added nutrition.
One tweak, or addition I made to the recipe was to add more of a variety of vegetables than the recipe called for. I stuck with the mushrooms and peppers, but also threw in half a small zucchini that I had left over, chopped into small pieces, as well as a few leaves of baby spinach which I chopped up finely. I'd recommend that all the veggies you add to the lasagna be chopped very small (pea sized at the largest) so that they're very easy for the little ones to chew.
I scaled the recipe in half too because it's just my husband, son and I who ate it. An 8x8 casserole dish works just fine if you scale yours down by half too. This reheats wonderfully so we ended up getting a few meals out of it, which makes it even more worth the effort to make, in my eyes.
Know of any recipes that have lots of nutritious veggies mixed in to make them more palatable to the picky toddler? I'd love to hear about them! I'm always looking for new recipes to try :D